December 2017 – Phalanx Shield sensor alerts can now be received a viewed using the Android Tactical Assault Kit (ATAK) application.
October 2017 – Innovative Algorithms will display our latest products at EUROSATORY 2018 in Paris, France, 11 – 15 June 2018, booth # D527 at the USA Security and Defense Pavilion.
September 2017 – Innovative Algorithms awarded a follow on DOD research contract to further develop "Small Unit Terrestrial Sensor Kits" for the U.S. Marine Corps.
June 2017 – Phalanx Shield User Interface (UI) options now include RaptorX and the new Phalanx Shield 2.0 UI. The Phalanx Shield 2.0 UI is a Cursor-on-Target (CoT) and Keyhole Markup Language (KML) system which offers increased capability and functionality. In addition to the new UIs, the Phalanx Shield system now offers beyond-line-of-sight control of sensors and receipt of alarms via cellular or Iridium satellite.
March 2017 – ATEK Pty Ltd (www.atek.net.au) joins Innovative Algorithms as our Australian reseller.
February 2017 – Delta 3 Solutions (D3S) (www.delta3solutions.com) joins Innovative Algorithms as our US reseller.
December 2016 – Innovative Algorithms awarded a Small Business Innovation Research (SBIR) contract to study and develop "Small Unit Terrestrial Sensor Kit" technologies for the U.S. Marine Corps.
October 2016 – Corey Murphy joins the Innovative Algorithms team as Senior Android Engineer. Corey brings a depth of Android App development and military experience as IA moves to further improve situational awareness for first responders and warfighters.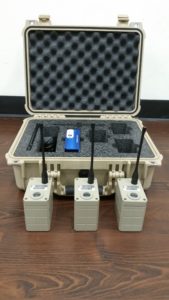 October 2016 – Innovative Algorithms is debuting the Phalanx Shield™ Networked Autonomous Sensor at the 2016 AUSA Annual Meeting and Exposition in Washington DC at the Walter E. Washington Convention Center. Come see our latest products at booth #647.
September 2016 – Innovative Algorithms awarded the Phalanx Shield™ Trademark from the United States Patent and Trademark Office.
August 2016 – Johns Hopkins Applied Physics Lab purchases full Phalanx Shield kit for testing and evaluation.
March 2016 – Press Release
Next Gen Sensors Expand Situational Awareness: Innovative Algorithms' Phalanx Shield Sensor System features detection ranges well in excess of current fielded systems, 7 classification types, double the autonomy of current products and offers new generation highly scalable ultra-low power communications.
Phalanx Shield is the next level of performance in technology, creating a new category – "Networked Autonomous Sensors" (NAS), advancing capabilities beyond yesterday's Unattended Ground Sensors (UGS). NAS opens the door to machine learning, achieved through intelligent processing and algorithms, coupled with advanced communication technology and lower power consumption. This future capacity has the potential for reduced False Alarm Rates and increased detection range.
The Phalanx Shield Sensor system is offered in 4 models, the X3, X3-ER, Q5, & Q7, specifically tailored with the operator in mind. Improved and more intelligent detection devices offer a significant potential to improve Border Patrol Agent's and Warfighter's situational awareness, allowing a unique capability to detect threats.
Founded in 2012 in San Diego, CA Innovative Algorithms is a certified Service Disabled Veteran Owned Small Business (SDVOSB) with primary NAICS code 541330 and CAGE Code 6THK1. Additional information about Innovative Algorithms can be found at innoalgo.com.
February 2016 – IA hires second UCSD Computer Science intern.
July 2015 – IA becomes certified as a Disabled Veteran Business Enterprise (DVBE) and Small Business (SB) with the state of California.
May 2015 – Experienced QA former Engineering LDO and Chief joins team.
Apr 2015 – IA hires UCSD Computer Science intern; team is growing.
Mar 2015 – IA conducts field testing from coast to coast to capture data in various conditions and terrain.
Oct 2014, Dec 2014, Jan 2015, & Mar 2015 – Team goes into the field to collect real world data to support IA's next generation sensor technology development.
Sep 2014 – Agathe Lee joins the team as Design Engineer.
Aug 2014 – Team begins work on next generation sensor technology.
Jun 2014 – Rick "Rowdy" St. John officially joins Innovative Algorithms as Chief Operating Officer.
May 2014 – Company submits BAA proposal for RF "Smart Switch" development.
Mar 2014 – In collaboration with technology partner, company develops RF switch matrix technology.
Jan 2014 – Seaport-e contract award documents received.
Dec 2013 – Received request to furnish components for MIT LL testing of IA security systems in support of DHS.
Nov 2013 – Innovative Algorithms notified of Seaport-e contract award.
Oct 2013 – Back to the drawing board – IA continues R&D into mechanical, electro-mechanical, electronic and algorithm development.
Sep 2013 – IA misses proposals – one by less than 3 percent. Crap. Team is emboldened by the near misses. Technical debriefs validate the superior technical approach, but award is based on Low Priced Technically Acceptable.
Aug 2013 – Innovative Algorithms submits proposals to the US Army and Navy for its security systems.
Jul 2013 – First product successfully produced.
Jun 2013 – First product development begins.
May 2013 – Establishes strategic relationship with technology firm and moves into facilities. Seaport-e proposal submitted.
Apr 2013 – Completes negotiations for exclusive licensing and starts plan for first technology build.
Mar 2013 – Z-Microsystems offers support and use of its facilities.
Dec 2012 – IA enters negotiations for exclusive licensing of innovative world-class sensor technology.
Nov 2012 – Innovative Algorithms founded in the garage of Jay Chesnut in San Diego, CA.